Hydraulic curving machine

Hydraulic curving machine

Arch machine ABE610

Arch machine ABE750

Arch machine ABE840-860

Auto curving machine ABE850

Arch machine ABE750


Description of sheet curving machine:
It has many advantage like light weight, good rigidity, flexible and has well anti-seismic capability. It adopt the reasonable load-carrying style, safety margin and can bear large wind load and brisance.
Diversified design styles, well adaptable, scientific design and advanced construction methods, all above make the archedroof building precise and the quality get guarantee. The outline of the building is beautiful diversiform. With bright color and smooth lines, it add the tone of the building and let the city more beautiful.
This kind of building take diversity style. It can take the straight flute board and combinated with different form builing. It can both build the building with different purpose and arched between the two building.
It can also add the floor on the existing building. It can anti-water and add the using space.

Technical parameters of Auto-arch machine:
1. Install size:15000mm*2200mm*1500mm
2. Rolling material: Forging Steel 45#
3. Main motor power: 3 KW
4. Hydraulic unit power: 3 KW
5. Hydraulic station press: 18-20 Mpa
6. Productivity: 9-10 m/min
7. Material of the cutting blade:Cr12
8. Electric control system: PLC vector inverter
9. Rolling galvanization thickness: 0.05 mm
10. Raw material thickness: 0.4-0.6mm
11. Raw material width: 914mm
Finished guardrail: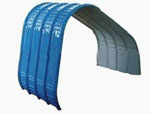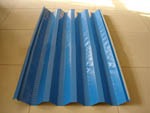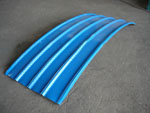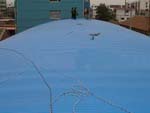 Curved product
Curved product ABE750
Curved product ABE840-860
Curved product ABE850