Slitting machine

1.25m slitting machine

1.25m embossing slitting machine

1m embossing slitting machine

1.25m simple slitter

1m simple slitter

1m slitting machine

Slitting machine


Producing process sketch: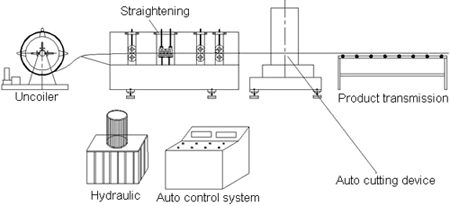 Main technical parameters of slitting machine:
No.

Items

Unit

ABE-SM

1

Production speed

m/min

5-10

2

Steel thickness

mm

0.4-1.2

3

Roller material

Cr15

4

Rolling width

mm

1200

5

Electric power

kw

3

6

Hydraulic cutting power

kw

3

7

Control system

Industrial PLC control system
by frequency conversion

Main features of slitting machine:
1.This machine adopts the material shelf with a style of cantilever and opening umbrella to put material with no dynamic force. It can adjust the end of the screw mandrel of the material shelf to fit in with steel of different apertures. Easy to operating and its speed of putting materials and the main mounding machine is in phase.
2.This machine adopts Seven Rolls level correction, roll arbors adopt high-quality alloyed steel 40Cr, made with a heat treatment, and it has a perfect effectiveness of level correction to defect band steel.
3.The roller of the principal machine adopts the bearing steel Cr15 to strike, distressing to annealing, quenching, tempering, and Parkerizing, such heat treatment process. The surface hardness reached HRC60 degree. All the rollers are made by the numerical control lather, and this guarantees the accuracy of the roller's sizes and prolongs its working life.